Animated GIF horror for Qlik Sense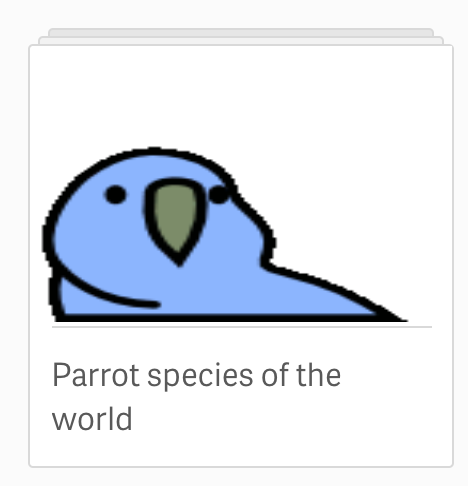 Qlik Sense is very much my go-to tool for many data related questions.
It's very powerful to be able to throw together a proof of concept or test a hypothesis in half an hour.
Seeing is however believing, so those prototypes does need some polishing before they can be seen as production grade.
I have always pushed my peers in the Qlikosphere to become better at using icons for their Qlik Sense apps in general, and also for the sheets within those apps.
Having an icon for a sheet within an app makes it way easier for the user to find a particular sheet – humans are visual by nature.
Wait, is there an app there?
Let's look at an example.
Below is a stream in Qlik Sense (think of a stream as a folder or directory in which one or more apps reside).

The app names are not the most exciting ones, to be honest… and all the icons are the same.
Pretty much the definition of boring, even though that app about parrots seem interesting. I like parrots – they are cool.
---
Parrots are cool!
---
A couple of years back I created the "Butler icon uploader for Qlik Sense" tool (Github link), which makes it easy to upload large collections of professional quality icons to Qlik Sense.
Having access to such icons makes it a lot easier to spice things up a bit and add nice icons to Sense apps.
More recently I have been working on bringing that tool up to date with respect to latest versions of Qlik Sense etc, and I stumbled onto something interesting during that work:
Qlik Sense can use animated GIFs both as app icons, and as sheet icons.
Yes I hear you moaning that this is a really bad idea… and you are probably right.
Nonetheless, I hereby give you: The animated GIF edition of the above apps!
That's pretty annoying.
In 99% of all cases you probably want to go with static icons like the ones from Font Awesome – which by the way are supported by the Butler icon uploader.
That said, I have on a few occasions successfully used animated GIFs for apps that I wanted to draw the user's attention to.
So there are use cases also for animated GIFs after all.
Parrots for everyone
One more thing before you go:
Remember I mentioned I like parrots? Let's take a look at that parrot app… it's too good to skip. Open it, and what do we see?
Yay! Party Parrot!!
There's actually an interesting story about the cult of the parrot, going back to Slack emojis a bunch of years ago. Worth a read.
And don't forget: Stay tuned for a new version of the Butler icon uploader for Qlik Sense!
Parrots not included though.